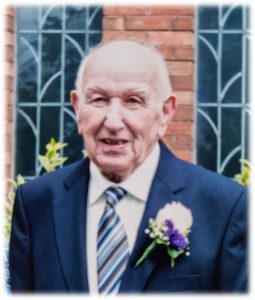 Mc Goldrick Owen
Cornamuck Houses
Dromore, Co. Tyrone
Died 18th March 2021
We, the family of the late Owen Mc Goldrick, wish to express our sincere gratitude and appreciation to everyone who sympathised with us and supported us through our recent bereavement.
Thanks to all those who telephoned, sent messages via social media, sent mass and sympathy cards, food and flowers.
Sincere thanks to the many neighbours, friends and everyone who lined the funeral route and stood outside the church and cemetery to pay their respects.
Special thanks to Fr. Patrick MacEntee PP for celebrating the requiem Mass. Thanks to Alice Hughes for the beautiful music.
A special word of thanks to the medical and nursing staff who attended to Owen over the years, in particular the final weeks of Owen's life and also the Staff of Dromore Surgery and Bradley's Pharmacy Dromore for their support.
Thank you to Mc Atee funeral directors and the gravediggers for the dignified and professional way the funeral arrangements were carried out.
As it would be impossible to thank everyone individually please accept this acknowledgement as a token of our sincere appreciation.
Owen's month's mind mass will be celebrated in St Davog's Church Dromore on Saturday 1st May 2021 at 7pm. It can be viewed online by the parish webcam.