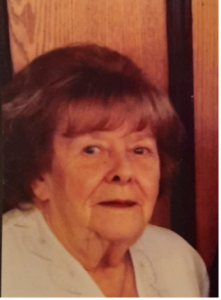 The family and entire family circle of Mary wish to express our sincere appreciation and heartfelt thanks to all those who sympathised, prayed for and supported us through our recent bereavement. Thanks to those who called to the house, who telephoned, who sent Mass or sympathy cards, who wrote touching letters, made donations, gave flowers and those who left messages via social media or those who lined the Funeral route from Arvalee to Killyclogher or who joined us via the webcam. Sincere thanks to our relatives, friends and neighbours who helped out in so many way, made refreshments, brought food, parked cars, erected gazebos, sat up and who helped in any way at all to help us grieve as a family.
A special word of thanks to Fr Declan McGeehan for calling at the house and celebrating the Funeral Mass as well as to Fr Kevin McElhennon and Fr Pat McCrory for their prayers for Mary and her entire family circle. Sincere thanks to Pat McAtee Funeral Directors for all their help and assistance and the dignified, professional manner in which they carried out the Funeral arrangements. Thanks also to Ciara Fox for the lovely music and singing and to Sarah, The Daisy Chain for the lovely flowers and to the gravedigger Pat O'Connor for preparing Mary's final resting place.
Sincere thanks also goes to all the wonderful carers that Mary had over the last number of years and who took wonderful care of her, to her GP and to all the staff at both Enniskillen and Omagh Hospitals who cared for Mary and looked after her until she came back home to us.
As it would be impossible to thank everyone individually, please accept this acknowledgement as an expression of our deepest gratitude. If anyone still wants to make a donation they can do so to the family directly.
Mary's Month's Mind will be celebrated on Saturday 27 February at 6.30pm St Mary's Church Killyclogher via webcam.