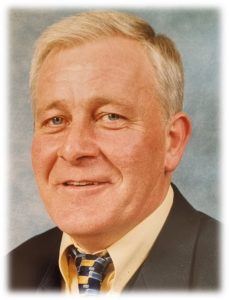 Gerry's wife Eileen, his sister, Kathleen and extended family wish to express our heartfelt gratitude to all who sympathised and supported us during our recent sad bereavement. To our relatives, friends and neighbours who supported us in so many ways and helped at the wake – a sincere thank you.
A special word of thanks to the Staff of the Omagh Palliative Care Ward who looked after Gerry with great dedication and where Gerry was cared for with such dignity in his final days. Your excellent care, professional support, warmth and diligence will never be forgotten.
To Fr Brian D'Arcy, CP, Fr Declan McGeehan, CC and Fr Kevin McElhennon, PP for their spiritual support during Gerry's illness – a heartfelt thanks.
Thanks to the staff of the South West Acute Hospital for their care and support.
A sincere word of thanks to District Nurses – Rachel, Julie and Martina; Carers – Declan, Conor, Caroline and Clodagh; Ivan – Care for Cancer; Social Workers – Anne, Damien and Gillian for their attentive care and compassion. To Claire and Marie for bringing the Padre Pio Glove to Gerry and to Philip for his support and friendship – thank you.
To all those who called at the house, attended the funeral, travelled long distances, lined the funeral route or who joined us via the webcam, sent Mass or sympathy cards or donations in lieu of flowers and those who left messages online or via social media – a very special thank you.
To Fr Denis Dolan P.E, James, Joan, Cathy, Ciara, Fiona, John, Mark and Patricia, Sacristan who helped to make Gerry's funeral Mass so special – a heartfelt thanks.
Thanks to Mickey, the grave digger who prepared Gerry's final resting place.
To the ladies in St Patricks Hall for providing the refreshments after the funeral – a very special thank you.
We will be forever grateful to Fiona who supported us and provided care and comfort to Gerry during his illness.
To Gerry's former team mates and members of Dromore GFC for the Guard of Honour and for carrying Gerry's coffin to his final resting place – a special word of thanks.
We would also like to extend our thanks to Pat of McAtee Funeral Directors for their professional guidance, support and for the personal way in which the funeral arrangements were carried out.
Thanks to Sharon, Radius Housing and Kathleen, his neighbour and the residents of Mullinacross Fold and those who supported Gerry in any way during his time there.
We hope this acknowledgement will be accepted by all as a token of our sincere appreciation. The Holy Sacrifice of the Mass will be offered for your intentions.
Gerry's Month's Mind Mass will be celebrated in St Davog's Church, Dromore on Saturday 28 May at 7pm.